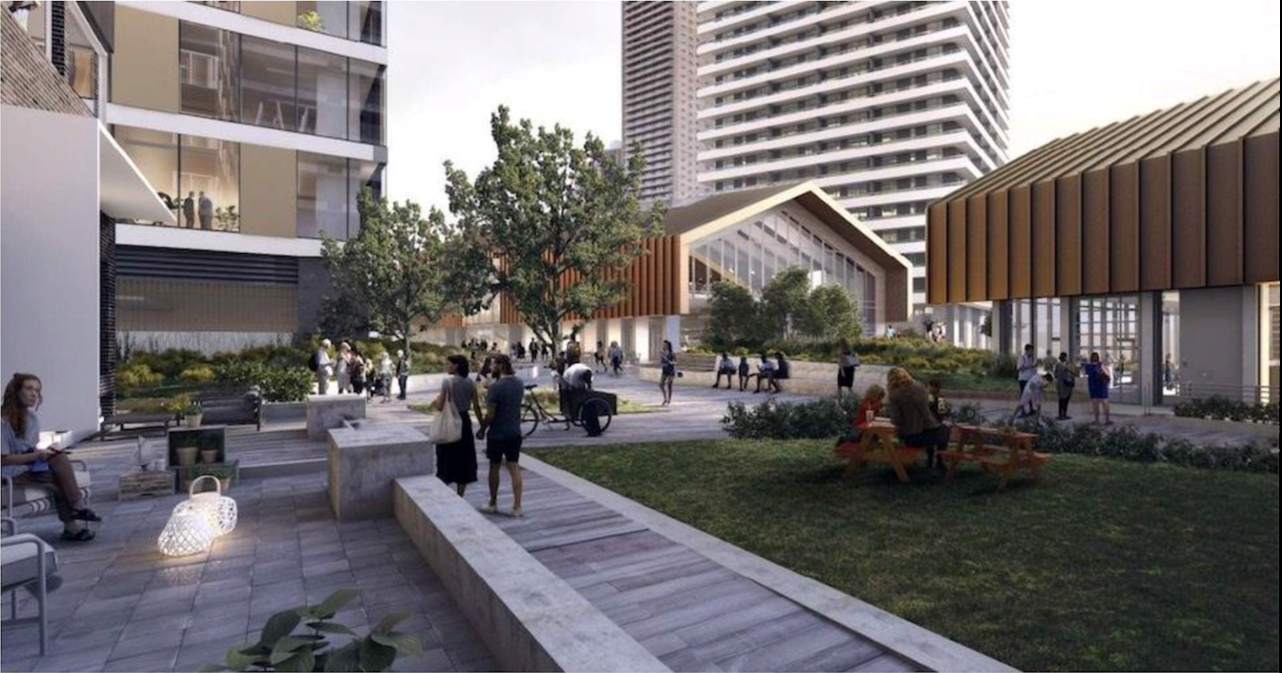 BlueSky Brightside brings 1,300 homes to Surrey City Centre
Published March 09, 2020
BlueSky Brightside goes before Surrey city council Monday, a three-tower development with over 1,300 units, including purpose-built rental apartments, retail and office space.
The site, at 13583 104 Avenue, is currently occupied by a vacant commercial building (formerly The Brick) and temporary modular housing operated by BC Housing. It's 215 metres from the Surrey Central SkyTrain Station, and close to Surrey City Hall.
The architects are Perkins + Will, with landscape architecture by PWL Partnership. BlueSky Properties is a division of well-known, Vancouver-based developer Bosa Properties.
The development will be built in three phases, and will include:
three high-rise towers 

Tower 1 (Phase 1): 40 storeys
Tower 2 (Phase 2): 50 storeys
Tower 3 (Phase 3): 50 storeys

commercial building with "retail mews"
three-storey amenity building with fitness and flex rooms 
rooftop patios on the residential towers, dog park and play space
There will be a total of 1,352 units, including studios, one, two and three bedroom apartments. In addition, there will be 14 two-bedroom townhouses.
BlueSky Properties plans to enter into an agreement with the City of Surrey to secure approximately 200 of the units as purpose-built rentals for a minimum 20 years. 
Phase one, which includes 418 of the 1,352 homes in a 40-storey tower, is projected to complete in 2025.
The Surrey School District projects phase one will add 10 elementary school students at KB Woodward Elementary School and four secondary students at Kwantlen Park Secondary School. Both schools are already over capacity, but additions are currently being studied.
The council report on Brightside states: "the proposed development conforms to the goal of achieving high-rise, high density and mixed-use development around the three City Centre SkyTrain Stations. The Surrey Central SkyTrain Station is located within a walking distance of 215 metres of the subject site."
"The proposed height and density of the development is consistent with an evolving urban context in the City Centre, as it relates to adjacent tower developments in City Centre. The proposed development provides a transition from the high-density civic core centred on Civic Plaza to the south and the future residential developments to the north."
A total of 1,681 parking spaces are proposed in a five-level underground parkade.
The development is the second major project to surface over the past few weeks in Surrey City Centre.
Century Group's Holland Parkside will include over 1,000 homes in three towers, plus office space, retail and a daycare.
The project is 50m from the King George SkyTrain station, and should be complete by 2024.