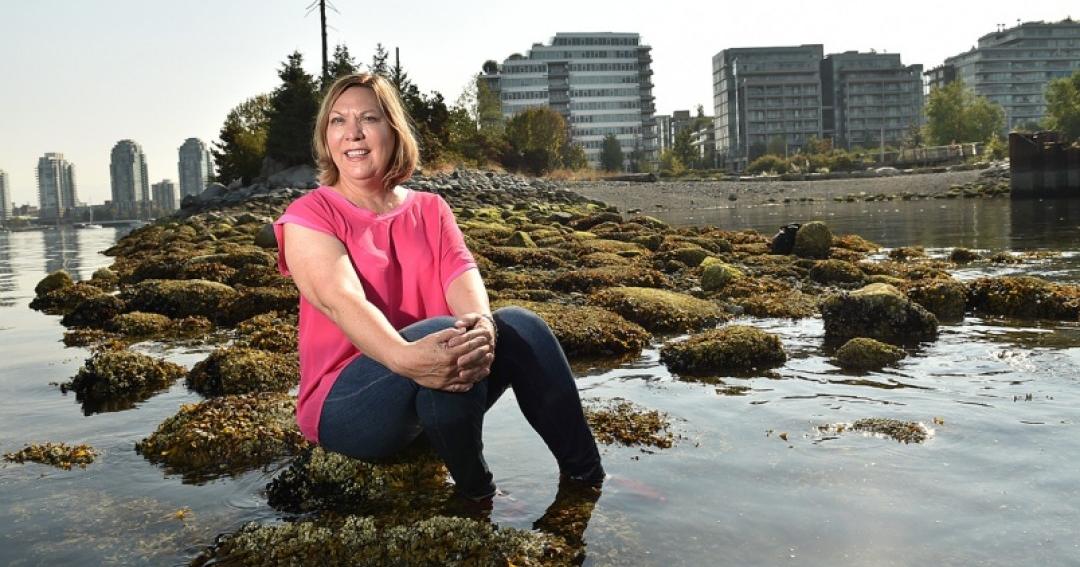 How a human-made island grew organically into an urban oasis
By Christopher Cheung, Vancouver Courier
Published September 14, 2017
You might not notice the island, even though it's in plain sight.
But once you do, it beckons you, whether it's your first time or your 10th. There's a path across False Creek that leads you to it, and you can't help but feel a thrill of discovery. The trees, shrubs, water and dead ends make you feel a sense of privacy, even with condo towers all around. It's like being in a treetop clubhouse in Vancouver's urban backyard.
Once when I visited, a man in a latex horse mask sprang from the shrubs to scare me. On another evening, a quartet of three guitars and a ukulele sang "Folsom Prison Blues" on the island's rocky edge. As the sun set, a man in tweed with a tie and his sweetheart in a dress clinked wine glasses. They sat on a picnic blanket in the grass, and brought a basket with a board of charcuterie and cheese.
This is Habitat Island. It's a small thing off Olympic Village, though more of a miniature peninsula than an island. (Then again, Granville Island isn't an island either, nor is False Creek a creek, so let's just call it an island for this story.)
The island has joined the ranks of other mythic Vancouver landmarks, such as Dude Chilling Park or the East Van Cross. You might know it better as Beer Island, as the island's become a favourite secluded spot to enjoy a cold one in the urban outdoors.
Eric Ly, 29, lives near the island and likes to drink Pabst Blue Ribbon there; he calls himself a "cheap hipster" for it. Ly moved from Ottawa, home to a patio beer culture. No Beer Islands there.
"It feels like one of those last undiscovered spots tucked away in the middle of the city," said Ly. Sometimes, he'll even visit for a "super, ultra-rare date with a lady friend."
The island feels organic, from how it looks to how its fame spread by word of mouth and Internet circles. But the island is a new addition to the water, only eight years old. It's also human-made, which raises the question, how do you make a new island that feels organic and welcoming?
"We just put the bones in. Really strong bones," said one of its creators. The rest is up to the public.
An Island Is Born
Habitat Island was created to be the solution to a problem.
When Olympic Village was planned for southeast False Creek on old industrial land, the development was going to gobble up some shoreline. It was industrial wasteland, but the federal Fisheries Act considered the shoreline a fish habitat, and any fish habitat erased by development had to have a replacement.
Mark Adams of Envirowest Consultants, which worked on the redevelopment, came up with the creative response to the regulation: make a new island.
It then led to a more ambitious undertaking to repair industrial False Creek's ecosystem.
"One of our big ideas was to bring nature back into the city, back into this very dense urban environment," said Margot Long, a principal at landscape architecture firm PWL Partnership. The firm designed most of the newest public spaces in southeast False Creek.
The creation of Habitat Island took 246 trees, 20,929 shrubs, 3,469 grass plantings and about 60,000 cubic metres of rock, cobble, gravel, sand and boulders. The adjacent Hinge Park was created as a wetland environment to manage rainwater runoff from the neighbourhood.
Together, they greened the site that was the former city works yard.
A number of wildlife sightings followed. Seals on the island's western spit. Two beavers setting up a home in the new wetland. Herring spawning in the waters, with an occasional heron looking to snack on them.
A 'Sense of Discovery'
It didn't take long for people to start inhabiting the new area in their own way. Six months after the island's completion, Long spotted something unusual.
"There was a woman cutting someone's hair! On the island!" said Long.
Even for someone who helped create the island, creation proved to be surprising. That's the way it was intended to be.
"We designed it so that it was quite flexible," said Long. "We just put the bones in, and that means people can take ownership and use it however they want. If you have a project with really strong bones, it becomes more adaptable to change."
What Long calls the island's "sense of discovery" was part of that integral skeleton.
"There weren't supposed to be any trails, as a piece of true habitat compensation, but we knew that people would go on it. It was supposed to be discovered."
So trails were added, and they invited exploration especially because some have dead ends.
"As a landscape architect, you're NEVER supposed to design something with a dead end path," said Long. "It's the kiss of death from a security stand point. But that's what the kids like."
The entryway — a path of rocks people have to hop across to access the island when the tide comes in — is also exciting to discover for kids and adults alike. But it was even more thrilling in an early iteration with no rocks and a path that vanished at high tide.
"But the city flipped," said Long. "So what if people get wet and have to walk in six inches of water? Big deal!"
Growing Pains
The island quickly played host to newcomers and new cultures.
Some liked to sit on the island's logs facing BC Place to listen to concerts. There was a small crowd during Taylor Swift's last Vancouver visit. Others bring their own music on speakers, sometimes with weed.
Not long after the island's creation, breweries blossomed nearby, homeless and hipsters alike brought drinks to the island and binners followed. I once saw an elderly Cantonese woman in a red fleece and bucket hat collecting empty beer cans from a group of young men.
Both parties were happy to see each other. "This is a great spot!" she told me.
But the police have also been watching the island.
"It's growing in popularity," said Sgt. Jason Robillard, a media relations officer with the Vancouver Police Department
Robillard said the VPD has told nearby places that sell liquor to remind people it's illegal to drink in public. The fine can be up to $230.
Messes are also a problem, to which Nick Martin, a lover of the island in his mid-20s, says it's too bad that some people go "over the top."
Martin and his friends have a simple philosophy: "Pack out what you pack in."
Public Welcome
"A citizen has a right to plan his environment that is at least as valid as the planner's right to do it for him."
That's a quote from "Everyman the Planner," a master's thesis by the late architect and planner Jack Long. He is well known in Calgary for championing citizen-driven planning, having lobbied against big road projects and developments in the neighbourhoods of Ramsay and Inglewood, Calgary's oldest.
These are lessons that his daughter, Margot Long, takes to heart in her work.
"The public really needs to be involved in anything you're designing," she said. "It's not my design, it's not our design — it's the public's design."
She's glad that Habitat Island succeeds at being a welcoming public space.
"It has a life of its own," said Long.
When you design an inviting place, you never know who might show up. Barbers, beer drinkers and binners have already showed up on the island's shores.
Keep an eye out for new explorers.