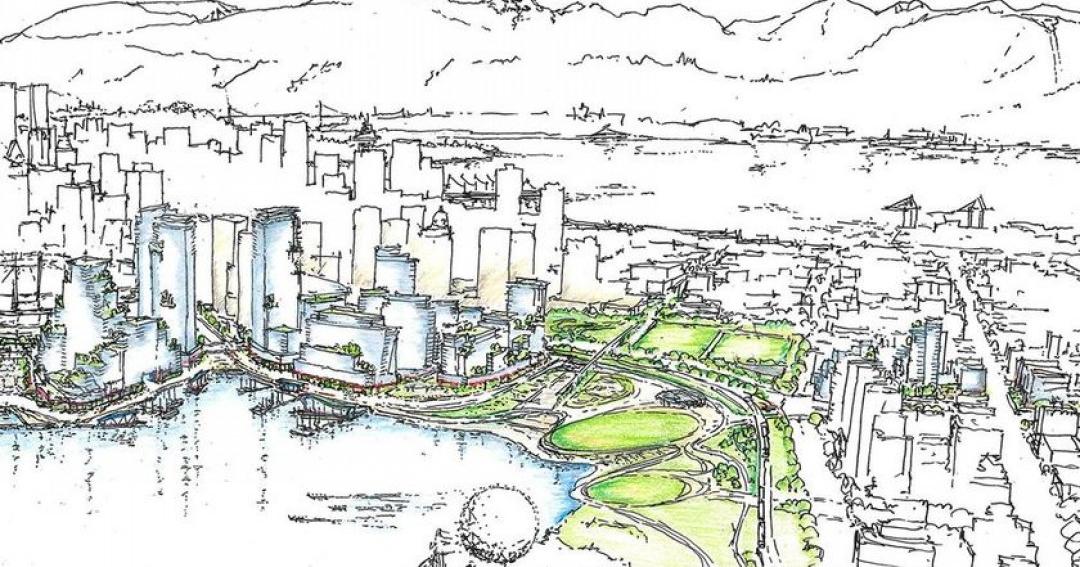 Opinion: Northeast False Creek Vancouver's New Golden Apple
By Larry Beasley, Vancouver Sun
Published February 21, 2018
Last week, Vancouver City Council approved the False Creek North Plan.
With this exciting decision, a lot comes together for Vancouver's inner-city that has been in gestation for many years. Back in the early-1990s, when the overall plan for False Creek North was put together, we had great aspirations for the east end of False Creek but there were problems that had to be solved before the best ideas could possibly see the light of day.
Not the least of those problems was removal of the Georgia and Dunsmuir Viaducts. Back in the 1990s, it was hard to even conceive the demolition of these long, intrusive bridges — the only piece of the abandoned freeway that was ever built. People said the traffic would go crazy and downtown would be cut off from the east. The traffic plan that was finally discovered was simply to finish Pacific Boulevard as a two-way thoroughfare in front of B.C. Place Stadium, connected to Georgia Street up a gentle slope and linked to as many local streets as possible. Traffic will flow as easily as it does now — even the city's traffic engineers have confirmed that through hard analysis.
Just as important as the traffic, though, are two other big benefits for Vancouver. One is that the unsightly viaducts will be gone forever. These structures have dominated our views from False Creek to the north for far too long. You can say the same from the north looking south. The older neighbourhoods stretching easterly from downtown will have a spaciousness and light that they never thought they would see. The other benefit will be the completion of Pacific Boulevard as an elegant new route with lovely perspectives that our tourists will lap up. At the same time, the Expo Boulevard piece, tucked behind and under BC Place, will become a back lane serving only the stadium. Good riddance to this dark dingy route for Vancouver commuters. But it will be great support for the stadium back-of-house.
Removing the viaducts also helps solve another longstanding problem — how to provide enough park space at the east end of False Creek. We have always needed the park to not only serve the new population coming in and the existing residents in the towers along Quebec Street, who have been waiting for their park for years, but also to help the park-deficient neighbourhoods of Chinatown, Strathcona and Gastown. Well, all that city-owned land freed up with the removal of the viaducts has now mostly been re-assigned as park space. Designed by talented local landscape architects, PWL Partnership, along with a creative crew out of New York called James Corner Field Operations, this new park will be a knockout. It will undoubtedly be one of the grandest parks in the whole city and, finally, the older neighbourhoods will get their waterfront park access. This will also beautifully finish the inner-city waterfront system of parks and walkway/bikeway that is Vancouver's truly extraordinary string of green pearls.
It all seems too good to be true but it will soon be true for everyone to enjoy. But, the public agenda is only part of the great story of Northeast False Creek.
Concord Pacific's new development will set the bar the highest it has ever been in Vancouver. Not only does it have housing for a complete community with all the amenities that we have come to expect from this creative and responsible developer but the local streetscapes and sidewalks will be Vancouver's new urban playground. This district will host restaurants and an ever-changing range of shops and other attractions clustered right next to our stadiums. Kudos to Terry Hui and his project leaders, Matt Meehan and Peter Webb. Concord Pacific, who has delivered excellent new neighbourhoods in Vancouver for the last 25+ years, is outdoing itself with this innovative scheme. Meehan and Webb retained Civitas Urban Design, one of Canada's very best community designers, based right here in Vancouver, who has pulled out all the stops with their hip design. Yes, several of Concord Pacific's proposed towers pop slightly into one of the city's vital view corridors but I am still hopeful that in the upcoming rezoning a solution will be found that shifts that building mass away from the view. When I was Vancouver's co-director, we did that in hundreds of cases without the loss of floor space or value. Let's do that one more time for this corridor. Joe Hruda and Dan Daszkowski at Civitas will likely have several alternatives up their sleeves to sort out this matter handily. They usually do.
We need housing stock in Vancouver to offset spiraling prices, so the several thousand upcoming units by the big property developers in Northeast False Creek will be key in the market place. No one should ever forget this when considering this project. It represents a greater community benefit than just what we will see on the ground. But stock is not enough. A project in this high-profile location and of this vast size has to sing or the whole image of the city is at stake. That is certainly how I felt when I led these efforts all those many years ago. City Hall's team for Northeast False Creek, led by up-and-coming deputy planner, Kevin McNaney, is carrying the baton forward with real style. The urbanism of Vancouver is well in hand with the likes of talented McNaney at City Hall.
Vancouverites are vigilant about the big projects that get approved in our city. When we find fault and do not like a proposal, we are speedy to condemn it. This is exactly as it should be because our citizens are the most important custodians of the livable and green city that we have all created together. When a scheme is really great, we have to be just as fast to unabashedly sing its praises. In no uncertain terms, Northeast False Creek, particularly the proposal of Concord Pacific, is at a high point of excellence for the future of our city. Refinements along the way as it moves to development will only polish the apple — but in any event, it is a golden apple for Vancouver.
Larry Beasley was Vancouver's long-serving co-director of planning in charge of the transformation of Downtown. He now teaches and advises on urbanism around the world.