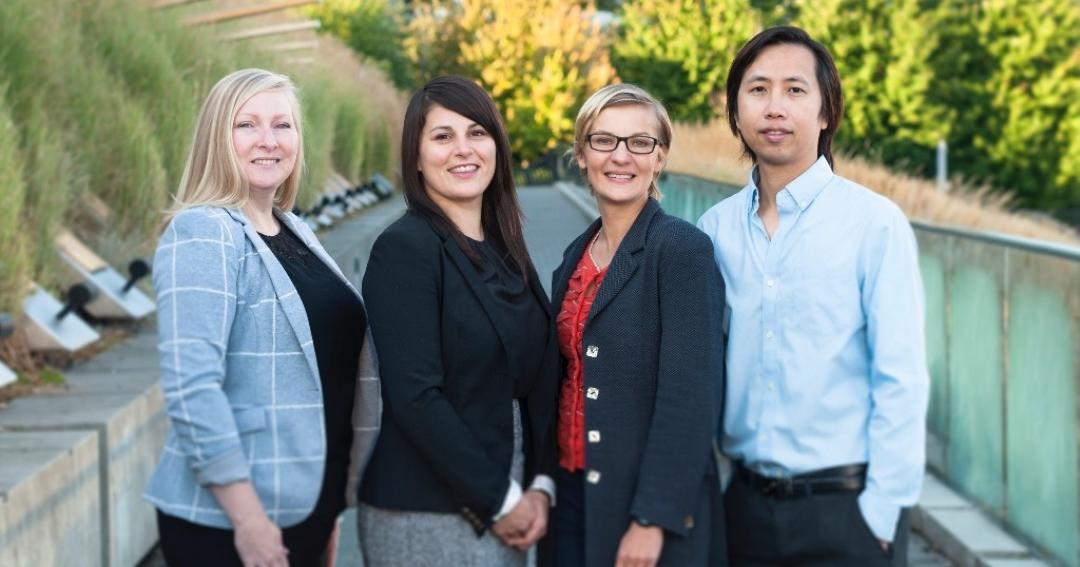 PWL announces four new promotions!
Published October 26, 2017
The people of PWL are the key to our success - from working effectively with our clients to designing livable communities and creating engaging public places.
Vancouver, BC (October 26th, 2017) - PWL Partnership is celebrating the promotion of three new Associates and a Senior Landscape Architect within our office. Our senior staff provide project management and mentorship within the office, work closely with clients, partners and staff - helping facilitate and manage the our practice, from conceptual design through to municipal review and construction drawings. We are thrilled by the contributions that each individual adds to the future direction and growth of PWL.
CHERYL BOUWMEESTER, ASSOCIATE
BCSLA CSLA BES
Cheryl strives to enhance natural environments in urban settings, creating spaces for others to enjoy. She is a dedicated project manager and offers strong leadership in the office from conceptual development to detailed design and construction.
JENNA BUCHKO, ASSOCIATE
BCSLA CSLA
Jenna's design aesthetic unveils simple interventions that celebrate the true nature of a place. She strives to create outdoor spaces that respect the land and natural systems. Jenna is versed in all aspects of the landscape and site design process.
KATYA YUSHMANOVA, ASSOCIATE
BCSLA CSLA BA
Katya brings extensive project management, leadership, and master planning expertise to the team, specializing in all stages of design from public engagement facilitation and public art planning to play space design.
ZHIWEI LU, SENIOR LANDSCAPE ARCHITECT
BCSLA CSLA
Zhiwei strives to design for everyone and everything, including those who don't have a voice at the table. He specializes in landscape construction technology, and brings a spectrum of skills from his background working at a variety of planning, architecture, and landscape architecture firms. Read more on Zhiwei.