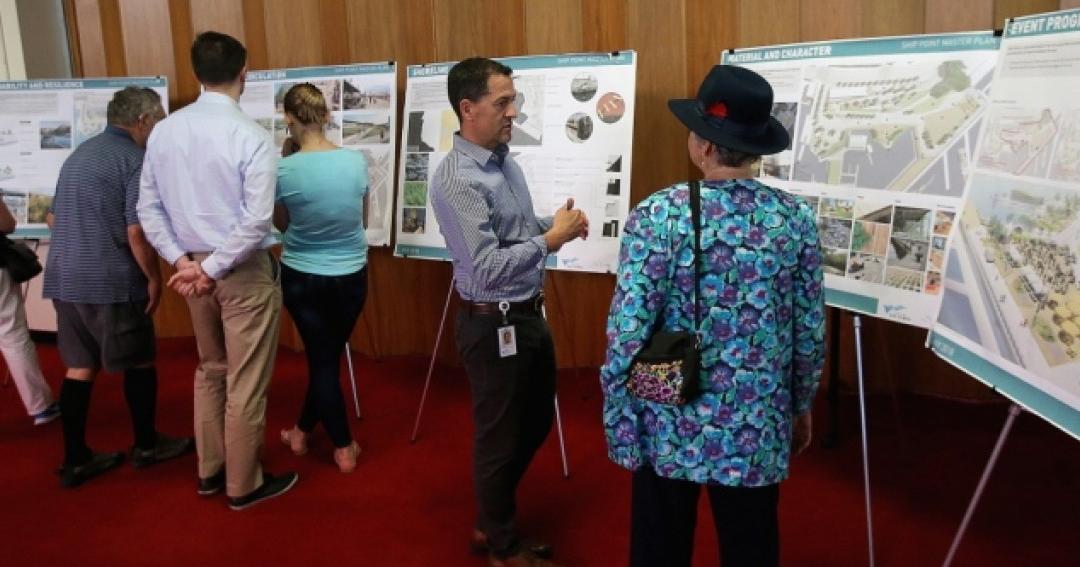 Softer look for Ship Point cheered at open house
By Richard Watts, Times Colonist
Published May 16, 2018
Redevelopment plans for Ship Point and its adjacent parking lot on the Inner Harbour drew applause from Victorians attending an open house for the project.
"It's long overdue and I believe it's a great direction," said James McGregor of Victoria.
"I love it." Liz Leary said she loved the notion of softening up the Ship Point space with plantings and "getting rid of all those cars."
The open house to view the new Ship Point Master Plan drew about 40 people to hear from municipal planners.
The city-owned space is currently home to parking spaces, the seaplane terminal and a pier.
Joaquin Karakas, senior urban designer with the community planning department, told the assembled citizens a planning and consultation process last summer arrived at four design principles:
The site should encourage vitality with good design.
Activity should be possible year round.
Connections and public accessibility should be developed.
A range of uses should be possible.
A number of proposals have been mapped in.
The nine-metre rock wall from Wharf Street down to the parking lot would be transformed with terraces and plantings. A pavilion, restaurants and outdoor patio space have been suggested.
Karakas said a key design principle is that Ship Point and its fixtures should be flexible enough to accommodate a wide variety of uses. Entertainment events and exhibitions would be hosted, as they are now.
Float plane traffic is considered a vital element of the Inner Harbour and Ship Point, Karakas said. The air traffic is vital to maintaining Victoria and the inner Harbour as a connection hub and the passengers coming and going keep the area bustling. "The whole design intent is for this space to be a shared space."
The redesign work has not been costed and will likely be accomplished in stages over many years. Initial estimates will be presented to councillors in the coming weeks.
Karakas warned that Ship Point has maintenance and structural issues. So the city's design staff will likely recommend that councillors begin by examining those issues first.
For example, the pier rests on wooden pilings that are rotting.
The entire land area of Ship Point is built from fill, probably dumped in when the Inner Harbour was home to a cement factory.
"But the conditions we have at Ship Point are not unusual," he said.
"Many, many cities have had that same sort of situation, a steep grade down to unconsolidated fill."
Nevertheless, enthusiasm among visitors to the city hall open house was obvious, even after they heard about the problems.
"It's going to be a pretty great replacement for all that area down there," said Alex Castillo. "Right now it's pretty ugly."
Nick Blasko said he was one of the original 300 to begin discussions with the city last summer about Ship Point.
Blasko said he is amazed to see so much of what he heard and said in those meetings reflected in the new master plan.
"I look at the plan now and I have to think: 'Oh my gosh, they actually did it,' " he said. "It really looks like it's going in the right direction."
To view the entire proposal, go to the city's website.