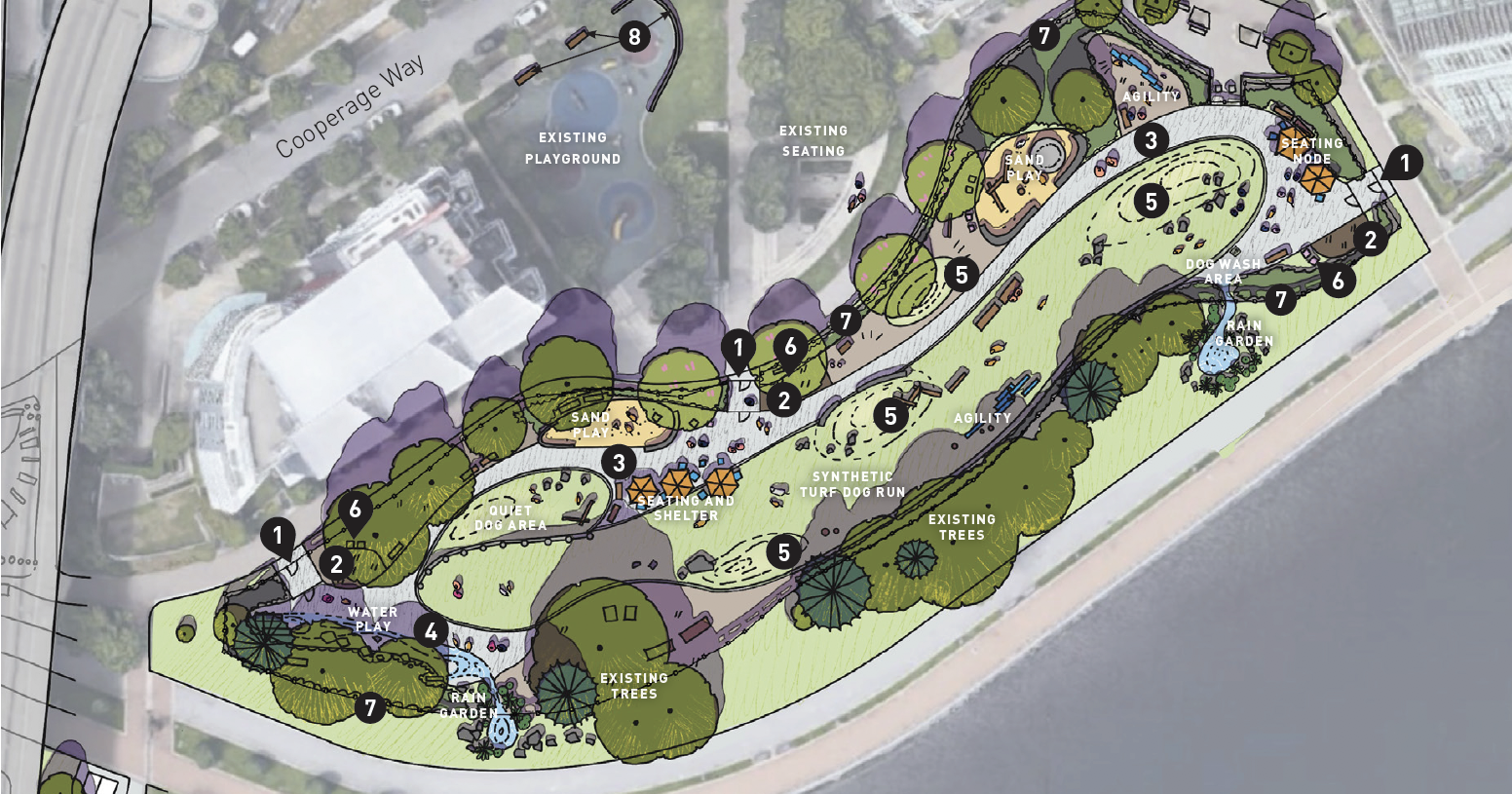 A themed park for dogs is planned for Coopers' Park in downtown Vancouver
Published March 25, 2021
A new round of public consultation is being conducted on the redesign of the off-leash dog area at Coopers' Park in North False Creek, converting it into a purpose-built, enclosed dog park.
The plan for the dog park already includes a secure fence around the off-leash area and the installation of a new public washroom. Public feedback is currently being sought on the programming within the dog park, such as amenities and play fixtures for dogs. 
The current space is worn down from high use and lacks physical boundaries, amenities, and facilities.
Not entirely dissimilar to the setup for the Superdogs shows made famous at the PNE Fair, the new dog park could have agility features, including tunnels, ramps, boulders, poles, and other custom-designed equipment.
Dedicated play spaces suggested for consideration include open areas for fetch and running, designated sand digging area, separate areas for shy dogs, water play features, and covered outdoor areas.
A variety of season fixtures is proposed, along with a range of surfaces that may offer more durability compared to what is found at the current off-leash park.
At the western end of the dog park, just south of the seawall pathway and next to the Cambie Street Bridge, a single-stall accessible public washroom is planned. This public washroom with an exterior hand wash station and nearby drinking fountain is planned for installation in Fall 2021.
Late last year, Park Board commissioners approved a public washroom strategy, which called for a standalone prefabricated washroom pilot project at three locations — Crab Park, Columbia Park, and Coopers' Park.
The Portland Loo, designed and manufactured by an Oregon company, was suggested as an option last year, and it is now the chosen equipment for the Coopers' Park location.
In an email to Daily Hive Urbanized, the Park Board states the washroom project for this park has received $645,000 in grant funding from the provincial government, including $150,000 for the acquisition cost of the equipment and the remainder for installation labour, sewage and water connections, and foundations and landscaping for the structure. The actual estimated toilet construction cost is $428,000, including $150,000 for the acquisition of the Portland Loo pre-fabricated, modular toilet, $328,900 for on-site work, and $3,100 for demolition.
Separately, but related, the Park Board previously conducted a consultation on a sealife-themed public park in the space below the Cambie Street Bridge, just west of the Coopers' Park footprint. It will have accessible fitness gym-like equipment and a new children's playground with a giant octopus slide as its centrepiece.
The Park Board's current online survey on the new dog park at Coopers' Park ends on April 6, 2021. The received feedback will lead to design revisions in the summer, the selection of the contractor in the fall, and the start of construction as early as winter.