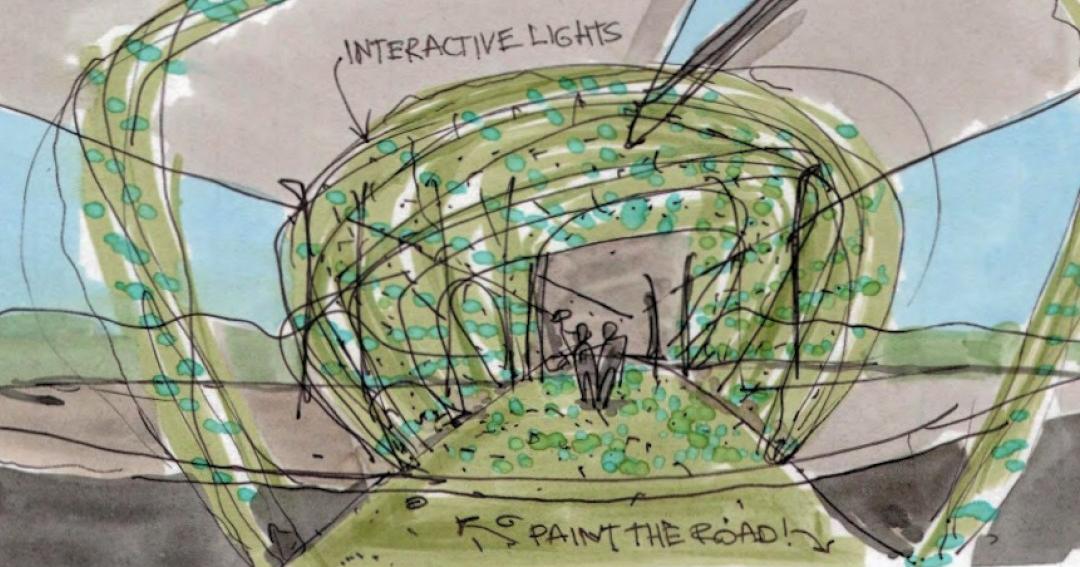 Unique park expansion proposed for space under Cambie Street Bridge
Published June 04, 2018
A proposed expansion of Coopers' Park underneath the north end of the Cambie Street Bridge in downtown Vancouver is envisioned to be a unique new public space in the city.
The Vancouver Park Board wants to expand the park westwards towards Marinaside Crescent, taking over an existing paved space.
As this space is located under the bridge, this site "provides cover from the weather and the possibility for year-round use in a uniquely urban environment."
This will add to the park's other covered areas under the bridge, including a playground, half basketball court, and small skate park. And last summer, this same area was used for Uninterrupted, a nightly projection display on the underside of the bridge deck.
At the moment, the Park Board has created the following preliminary conceptual design options for consideration:
Destination Public Art
Could there be a giant, multi-storey tall octopus with tentacles that touch the bridge deck ceiling? That's just one of the examples provided to offer a "big and bold" public art piece that attracts people and becomes a city landmark.
Visual Gateway
A gateway, such as an interactive tunnel with lights, could connect Coopers' Park's north and south areas under the bridge.
Climbing Wall
The underside of the bridge deck could become a climbing wall, providing a new recreational opportunity in the area.
Outdoor Fitness Gym
Want to work out at "Vanice Beach?" The covered space would be an ideal location for fitness gym and parkour equipment.
Bright Spot Public Art
Such a concept would "provide respite from rainy days" and "bring bold colour to the urban environment."