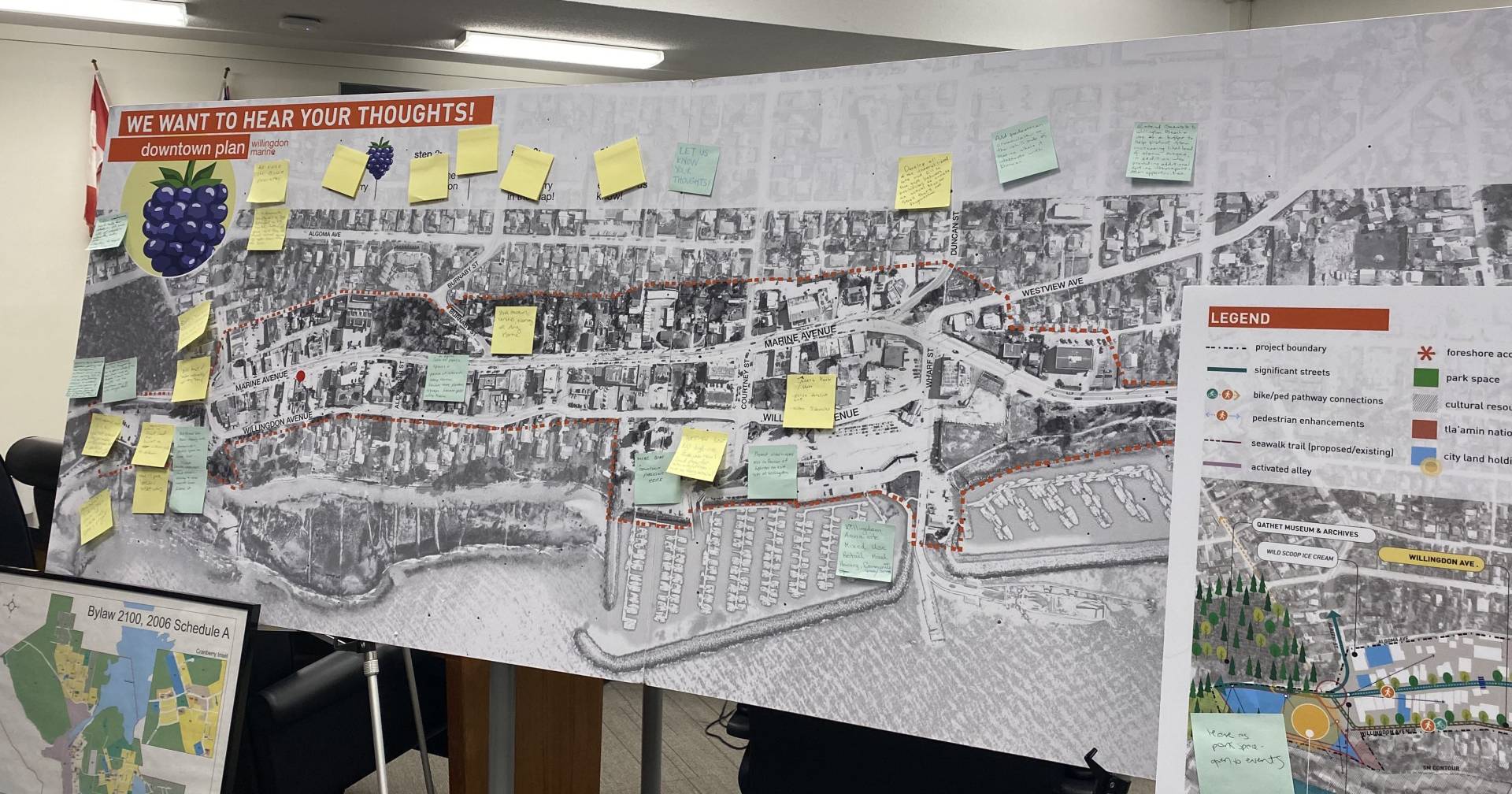 City of Powell River's downtown core discussed at open house
Published December 01, 2022
Consultants meet with public over development planning process.
City of Powell River council chambers were crowded for an open house to discuss downtown development plans.
At the November 21 meeting, D'Arcy Hutton, landscape designer with PWL Partnerships, which is the consulting firm for the project, said information from the community has been gathered over the past six weeks through a survey on the city's participatepr website.
"That survey let us know what the community wants to see happen in the study site, which is the downtown core between Wharf and Alberni streets, encompassing Marine and Willingdon avenues," said Hutton. "We were asking people what they would like to see on city-owned properties, which would be the Westview wastewater treatment plant and the old arena site, and the old barge terminal.
"We were asking generally, what are the changes you want to see in the downtown core, and how do you want the downtown core to look and function over the next five, 10 or 20 years? What are your priorities?"
In addition to the online survey, which has attracted several hundred responses, the consultants were at the Blackberry Festival in August to gather input, which was received from 200 to 250 people, according to Hutton. She said there are some areas of broad consensus, with people valuing park space and indicating the desire to green the downtown core.
"People seem to be excited about mixed-use development, where we are providing housing and public space," said Hutton. "There are some obvious issues around transportation and traffic and how we can address that."
At the open house session, Hutton said the consultants were outlining what they had learned through the public engagement session and from the surveys.
"We're letting people know this is what you told us and this is what we learned," said Hutton.
She said there will be further engagement. She added that the picture is coalescing.
"The feedback we've received gives us broad direction," said Hutton. "It's still pretty high level. As we move forward with more engagement, we are going to drill down into more of the details, such as how this plan will look."
Hutton said the process is engagement driven and the data from the surveys and open house events will determine the content of the plan.
"It's going to be backed up by what we have heard from people," added Hutton. "I'm so encouraged with the data we've collected. It feels like it is a really constructive process. Hopefully, when it all shakes out, there will be consensus."
Hutton said she feels heartened by the level of consensus already demonstrated, and her hope is at the end of the process, people feel like the plan reflects their views.
"We can all look forward to how Powell River will continue to shape itself," she added.